Our TriSmart Maintenance Plan
Peace of Mind for Your Huntington Beach Heating & AC Systems
The last thing you want at the start of a hot SoCal summer or cold winter season is to find that your home's heating and cooling systems aren't working properly. Proper maintenance is essential in avoiding these start-of-the-season surprises—not to mention, it can prolong the life of your system and ensure that your heater or air conditioner is working at optimal efficiency.
At Trifecta Heating & Air Conditioning, we offer the following maintenance plans designed to keep you and your family comfortable all year-round:
HeatSmart (heating system only)
CoolSmart (cooling system only)
TotalSmart (both heating and cooling systems)
Our Huntington Beach air conditioning repair at TriSmart maintenance plan for heaters and air conditioners also provide you with priority service in the event of an emergency so you never have to worry about being without heat or air conditioning in less-than-ideal weather.
Interested in signing up for our comprehensive maintenance plans? Call us at (714) 465-5525 to learn more!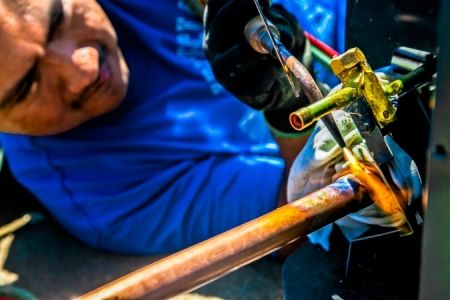 What's Included in Our Maintenance Plan?
At Trifecta Heating & Air Conditioning, we believe in providing the best possible service for our customers. Part of this is offering outstanding maintenance services that are designed to make your heating and air conditioning systems last longer and work better.
With Trifecta Heating & Air Conditioning's maintenance plans, you'll enjoy:
An annual furnace tune-up
Yearly air conditioner tune-up
Discount on diagnostic charge
One-year parts and labor warranty
Priority service and scheduling
100% satisfaction guarantee
15% discount on repairs
Convenient automatic payments
Additionally, for the best in Huntington Beach heater repair our maintenance plan is transferable—when you buy a new home, you can bring your plan with you or pass the plan on to the buyer of your old home. You also won't have to worry about scheduling your annual furnace and air conditioner tune-ups. Instead, we will call you to schedule your service at a time that works for you.
Both HVAC manufacturers and professionals recommend regular maintenance to extend the lifespan of your home's vital systems. Routine maintenance services can also ensure that your heater and air conditioner are running efficiently and provide an opportunity to locate minor issues before they have a chance to develop into major problems. This ultimately saves you money on costly repairs and replacements, and can even help lower your home's energy bills. With the TriSmart maintenance plan, your yearly tune-ups are included, meaning one less thing you have to remember.
Get started with our maintenance plan today—contact Trifecta Heating & Air Conditioning at (714) 465-5525!