Our TriSmart Plan - Heater & AC Maintenance in Huntington Beach
Enjoy Peace of Mind with Huntington Beach AC Maintenance
The last thing you want at the start of a hot SoCal summer or cold winter season is to find that your home's heating and cooling systems aren't working properly. Proper maintenance is essential in avoiding these start-of-the-season surprises—not to mention, it can prolong the life of your system and ensure that your heater or air conditioner is working at optimal efficiency.
At Trifecta Heating & Air Conditioning, we offer the following maintenance plans designed to keep you and your family comfortable all year-round:
HeatSmart (heating system only)
CoolSmart (cooling system only)
TotalSmart (both heating and cooling systems)
Our Huntington Beach air conditioning repair at TriSmart maintenance plan for heaters and air conditioners also provide you with priority service in the event of an emergency so you never have to worry about being without heat or air conditioning in less-than-ideal weather.
Interested in signing up for our comprehensive maintenance plans? Call us at (714) 465-5525 to learn more!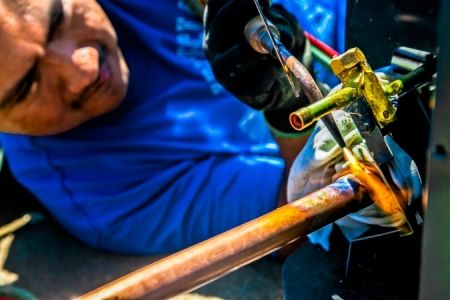 5 Ways AC Maintenance Saves You Money
1. Fewer repairs that are less costly too - When you subscribe to regular visits from our Huntington Beach AC maintenance experts, you'll prevent a lot of breakdowns before they happen. Your breakdowns will be less severe too which means they'll cost less to fix and you get 15% off of repairs when you sign up.
2. Longer life-span of your AC unit - On average, an AC unit lasts from 12-15 years. That lifespan depends on use, environment, and how much your unit is maintained. So make the most out of your AC unit and it could last you more than 12 years.
3. Increased energy efficiency - You won't notice an inefficient unit in your indoor air temperature. But you will be paying for this increased usage that's needed to keep your thermostat happy.
4. More predictable costs - The worst kind of cost is one that comes up out of nowhere and eats into our savings. If you're the kind of person that likes to budget for expenses ahead of time, then consider consulting our Huntington Beach AC maintenance experts today.
5. AC maintenance helps keep you under warranty - While signing up for our maintenance plan comes with labor and parts warranties, often times AC manufacturers have warranties too that require at least annual maintenance.
What's Included in Our Maintenance Plan?
At Trifecta Heating & Air Conditioning, we believe in providing the best possible service for our customers. Part of this is offering outstanding maintenance services that are designed to make your heating and air conditioning systems last longer and work better.
With Trifecta Heating & Air Conditioning's maintenance plans, you'll enjoy:
An annual furnace tune-up
Yearly air conditioner tune-up
Discount on diagnostic charge
One-year parts and labor warranty
Priority service and scheduling
100% satisfaction guarantee
15% discount on repairs
Convenient automatic payments
Additionally, for the best in Huntington Beach heater repair our maintenance plan is transferable—when you buy a new home, you can bring your plan with you or pass the plan on to the buyer of your old home. You also won't have to worry about scheduling your annual furnace and air conditioner tune-ups. Instead, we will call you to schedule your service at a time that works for you.
Both HVAC manufacturers and professionals recommend regular maintenance to extend the lifespan of your home's vital systems. Routine maintenance services can also ensure that your heater and air conditioner are running efficiently and provide an opportunity to locate minor issues before they have a chance to develop into major problems. This ultimately saves you money on costly repairs and replacements, and can even help lower your home's energy bills. With the TriSmart maintenance plan, your yearly tune-ups are included, meaning one less thing you have to remember.
4 Things To Look For in an AC & Heater Maintenance Company
1. Financing - When it comes to AC & heater maintenance, we know that you're looking to save money so we offer financing options to those who need it. Check out our Financing Page here to see all of the details relevant to your opportunity.
2. Photo Gallery - If you want to get a good feel for who our Huntington Beach heater maintenance experts keep our customers comfortable in their indoor environment then click here.
3. Reviews - One perk of having provided Huntington Beach HVAC maintenance for so long is that we've accumulated a plethora of rave reviews from our happy customers. You can read our reviews here and see why our customers love us by giving us a call today.
4. Blog - The purpose of our blog,that you can find here, is to inform any and all that want to keep up to date on the latest news and hottest trends in HVAC. We know that informed customers are happy customers and we'll publish regularly to make sure you're in on it all.
Get started with our Huntington Beach heater maintenance plan experts —contact Trifecta Heating & Air Conditioning at (714) 465-5525!